RESURGENCE CITY:
Newark USA
by L. Craig Schoonmaker
A new day dawns in Newark USA.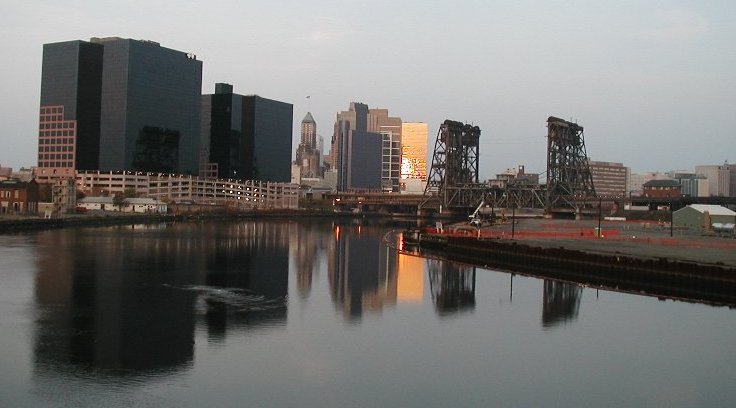 [

January 21, 2008

: Tho some things have been updated, this foto essay was written in September 2002, long before the 2006 election that put a new mayor, Cory Booker, into office. It thus represents a moment in time in Newark's recent past. Until I can update this page, please consult my fotoblog, "Newark USA", which keeps track of recent developments, and profusely illustrates the current state of the city.]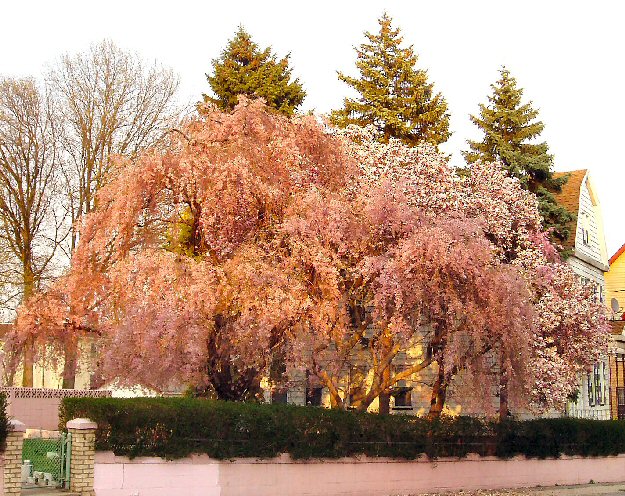 Newark is coming back strong. People who want the best of urban and suburban lifestyles at a substantially lower cost than is possible in either New York City or the suburbs should seriously consider making their home — and making some money — in Newark. Real estate prices are still low, as are taxes, but as things get better, prices of housing and commercial properties now undervalued will rise. That's good for people who buy now, but very bad for people who wait.
Weeping cherry (front) and magnolia (behind) greet the spring
in the Vailsburg section, western Newark.
---
Throughout this presentation you can find links that lead to touristic, educational, and employment opportunities in areas within easy striking distance of Newark, more than just additional information on the region's history and cultural institutions. If you encounter a nonworking link, please let me know.
---
Chances are, you don't know Newark, even if you think you do. If, for instance, when you hear "flowering cherry trees" you think "Washington, D.C.", you don't know Newark, which has more flowering cherries of more varieties than Washington.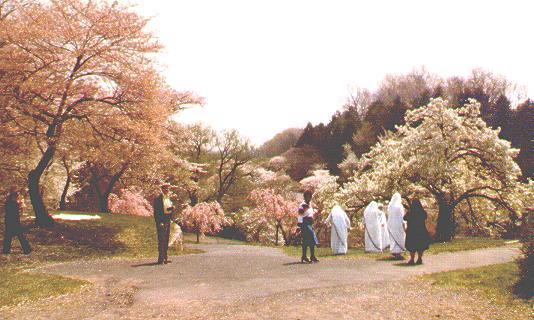 Sari-clad Indian visitors enjoy the flowering cherry trees in Essex County's Branch Brook Park.
Designed by John Charles Olmsted and Frederick Law Olmsted, Jr., it extends from northern Newark into suburban Belleville.
My friend Joe, who lives in Belleville, insists that all the best displays are in Belleville, but I told him
that when I'm mayor of Newark, I'm going to annex Belleville anyway.
Newark has other surprises, such as three statues by the sculptor of Mount Rushmore; a cluster of colleges and postgraduate institutions downtown (there are some 48,000 college students in Newark! tho few people think of Newark as "a college town"); a $187 million performing arts center that contains what The New York Times' theater critic Clive Barnes called "The nation's most glamorous theater"; a symphony orchestra; and one of the largest concentrations of Portuguese emigrants in a non-Portuguese-speaking country, who have filled The Ironbound District with distinctive restaurants and bakeries.
Here I present three views of Newark's Cathedral Basilica of the Sacred Heart, the exterior of the Cathedral in daylight and the two rose windows on the east and west ends of the transept. The photo on the left shows the west window with the sun behind. That on the right shows the east window.
And here are two more views of the Cathedral interior, the south rose window at the end of the nave
and the altar as seen down the nave from near the front doors.
In 1950, Newark was a prosperous midsize city in an urban complex that embraced all of northeastern New Jersey. Major corporations, especially insurance companies, had headquarters or branch offices downtown, and major cultural institutions combined with lower population density than the New York metropolis fifteen miles to the northeast to make for an eminently livable city surrounded by prosperous bedroom communities. Not everything was rosy, but the city was holding its own until misguided anti-city policies pursued aggressively by the Federal Government after World War II, which promoted an exodus from all cities to new suburbs largely created by Federal subsidy, gradually combined with an influx of blacks given an inferior education by the benighted and bigoted South, to produce a catastrophe.
Downtown reflected in the Passaic River. Photos in this presentation do not necessarily relate to the text they adjoin but are intended to give readers an impression of the people, places, and culture of Newark.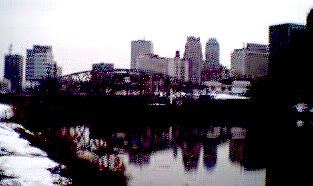 Denied education in their former homes, the new arrivals did not have the skills necessary to take their place in the sophisticated economy of North Jersey, which left them largely unemployable and subject to all the problems of being poor in a crumbling inner city. Cities and the housing in them require upkeep, and that takes money. No jobs, no money — no upkeep. Cities crumble. When everyone in the suburbs that surround you seems to be doing well but you in the inner city are hurting, and you feel that you are being denied opportunities because of the very bigotry your family tried to escape by fleeing North, you can get very angry. In 1967, black Newark erupted in deadly riots that have tainted the city's reputation ever since.


Skyline of Downtown Newark at nite, from across the Passaic River in Harrison.
Mind you, other cities had riots around the same time, but those riots did not permanently tarnish their reputation. Indeed, over the decades, Los Angeles and Miami have had more riots than Newark, but very few people think "riots" when they hear "Los Angeles" or "Miami".
Two views of the Penn Plaza complex, home to New Jersey Transit and Blue Cross/Blue Shield. Note that at nite the reflective glass of the top of the towers renders them almost invisible, as the horizon seems to continue across them, reflected, not actually seen thru them.
The Newark riots made the cover of LIFE Magazine, giant publicity the city could have done without and which probably contributed mightily to the lasting damage those riots have had on the city's reputation. 1967 is a long time ago, and a lot has changed — for the better.
Essex County Hall of Records, day and nite.
In the aftermath of the riots, white flight worsened, and white-owned businesses as well as white residents fled in large numbers. That, of course, only worsened the economic outlook for the unemployed, and the city entered a swirling downward spiral of social ills, including widespread drug abuse, which subverted the future of many Newarkers and made everything even worse, for them and everyone around them.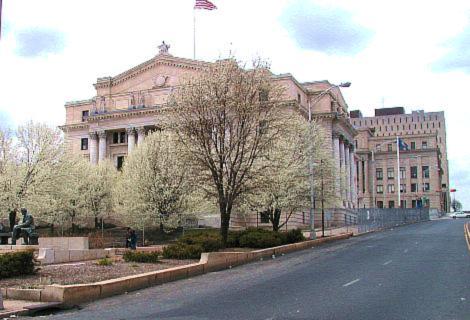 Old Courthouse (Essex County) designed by Cass Gilbert. Gutzon Borglum's
statue of Lincoln sits on the far left. A recent renovation tore out all the flowering trees, but
I have not taken a new picture because the renovation is not complete, and a chain-link fence is too visible.
White flight went to preposterous extremes. Some 20 years after the riots, I was traveling in Newfoundland (the Canadian province, not the small town in Passaic County, NJ) in my Mother's borrowed VW camper. Somewhere in the very middle of the island, I pulled off the Trans-Canada Highway to buy gas. A young blond man comes out of the office to man the pump. Seeing the New Jersey license plate, he asks, "What part of Jersey?" I tell him I myself live in Manhattan, New York City (at the time), but my Mother, whose camper it was, lives in the Red Bank area: Middletown Township. He says he was born in Newark, but after the riots his family moved there — to the middle of Newfoundland! That's 1,000 miles, by air, in another country, in a region roughly 100% white and 0% urban!
Newark's gilt-domed City Hall.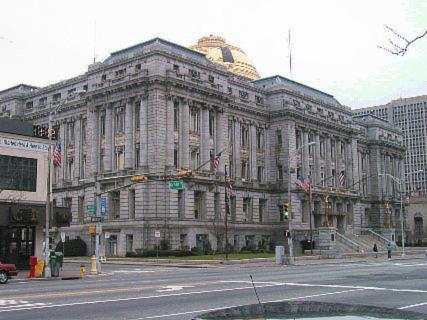 Blacks became the majority and political power passed to black leaders. Alas, New Jersey's reputation for municipal corruption was not mere legend, and the black leadership was subverted by corrupt community organizers who siphoned off funds intended for community development into the pockets of their families and cronies instead.

Essex County College (2-year institution),
University Heights.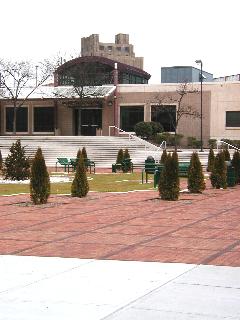 Then something happened. The State Government finally said, "Enough!" and cracked down on corruption. A new class of incorruptible black politicians arose. Moreover, the blacks who had come North without education gradually acquired the skills that made them employable. Their children attended Newark schools and got an education relevant to their surroundings. They came to believe in themselves and that they have a future in Newark: that if they study diligently, apply themselves, and approach the world with the expectation that people will treat them fairly, rather than with "attitude" — a chip on the shoulder — people will accept them and they can make Newark work. They were right.
The State and City governments reached out to business, and found some courageous corporate leaders who refused to give up and refused to leave. Newark got a new mayor, one of the most energetic and charismatic black leaders in the Nation, Sharpe James. And Newark has rebounded in a startling way.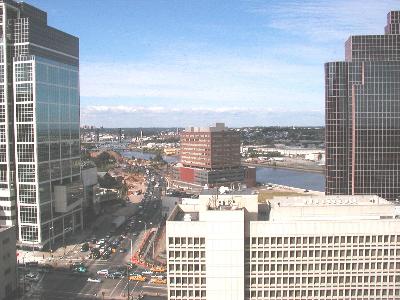 View of the Passaic River and the low Watchung Mountains beyond. One Newark Center (which contains Seton Hall Law School) is to the left; the Gateway Hilton Hotel is the low white building in the foreground; the FBI building rises in the middle, and the Legal Center is to the right. Running between is McCarter Highway, presently being widened to accommodate a light-rail shuttle from Newark Penn Station to the Broad Street (railroad) Station, with stops at the Performing Arts Center and Bears/Eagles Stadium.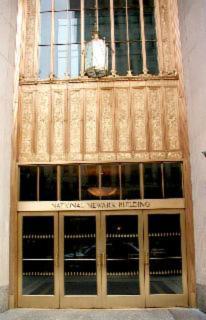 "Renaissance" isn't quite right for what's happening in Newark. I prefer "Resurgence". Newark has bounced back but has much to do to become a well-rounded city. Fortunately, the foundation is strong. It will support a great superstructure.
The entryway to the left is part of the tallest building in Newark, the 465-foot, 36-story National Newark Building (formerly the National Newark & Essex Bank Building). It is the site of Newark's only Starbucks! Newark has revived to some degree, but it hasn't gone yuppie.
Newark has everything a great city needs — even a subway. It is the largest city in New Jersey, the Nation's most densely populated state, and is the central city of a metropolitan area of almost 2 million people, which in turn is part of the immense Tristate Metropolitan Area of southeastern New York, northern New Jersey, and southwestern Connecticut, with almost 22 million inhabitants.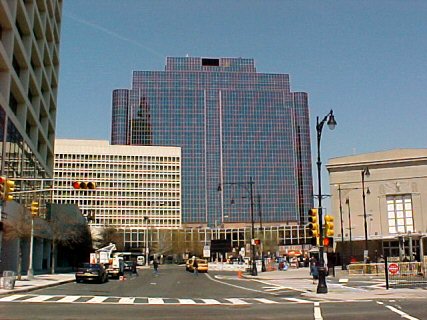 The Legal Center (middle), Gateway Hilton Hotel (left), One Gateway Center (tall building far left), and
Newark Penn Station (right) cluster around Raymond Plaza West. The ribbed structure over
the roadway is a skyway between Gateway Center and Penn Station, one of a series that links
seven buildings and three parking structures by secure, all-weather pedestrian walkways.
Newark has an international airport, one of the busiest in the Nation, almost wholly within city limits. Essex County (of which Newark is county seat) said on its website (before the recent change in administrations):
"Located three miles from downtown Newark and 16 miles from midtown Manhattan, Newark International Airport is closer to Manhattan than either Kennedy or LaGuardia. 'Airlink' mini-coaches connect the airport with nearby bus and rail facilities, and frequent helicopter service connects with Manhattan and other airports. One of the fastest growing airports in the country, the 2,300-acre facility serves 25.8 million passengers annually on over 435,000 arriving and departing flights."
Terminal C, one of three major passenger terminals at Newark International Airport.
(photo courtesy of GoNewark.com)
The airport is one of the oldest but most modern in the Nation. It had the first paved runway in the United States, and the first night lighting. Its terminals are linked by a fully automated monorail system with neither trainman nor conductor! The original terminal building was dedicated by Amelia Earhart in 1935, and was the site of the Nation's first air-traffic control tower. Starting in October 2000 and ending in April 2001, the entire building, divided into three enormous pieces, was moved 3,700 feet to a new site, where it will serve as core of a complex of offices and a museum on its history.
One Newark Center, home to the Seton Hall Law School (right), reflective PSE&G Building (center left),
the new home to the port of New York/New Jersey central processing center for the U.S. Customs Service (low building),
and part of Gateway Center Two (dark building to the left).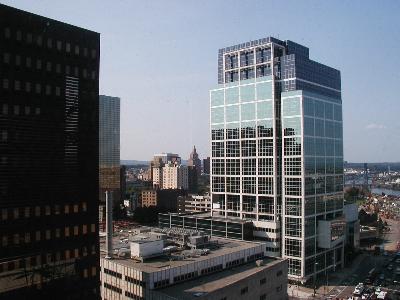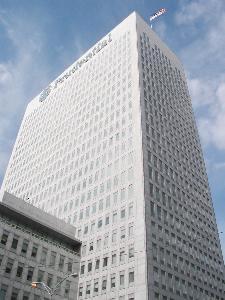 Newark is the center of an extraordinary complex of surface transportation, from deepwater shipping at Port Newark to an intricate network of frequent in-state and interstate trains and buses, to four interstate highways (two north-south, two east-west) passing thru town.
It has a state university campus (Rutgers), medical and dental schools in a health complex (UMDNJ), TWO law schools (Rutgers and Seton Hall), a technical college (New Jersey Institute of Technology), and a junior college (Essex County College); city, county, state, and federal courts and other government establishments; and local offices of some of the Nation's largest and most prestigious law firms, including some founded in Newark.
Major business corporations remain (Prudential, the insurance and financial-services giant, has its headquarters in Newark), and others have moved in (including IDT / Net2Phone).
Prudential's headquarters building, Broad Street.
The New Jersey Performing Arts Center.


A glittering new palace for music and theater, the New Jersey Performing Arts Center ("NJPAC", pronounced "EN-jay Pack"), and a stadium for a minor-league baseball team (the Newark Bears) have joined older downtown attractions such as the Newark Museum and Newark Public Library. They may eventually be joined downtown by a new arena for the New Jersey Devils of the National Hockey League.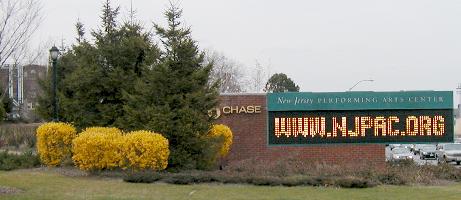 NJPAC hosts traveling companies of Broadway plays (for example, Miss Saigon, The Full Monty) and major performing-arts organizations (e.g., the Royal Philharmonic, the Alvin Ailey American Dance Theater), as well as the New Jersey Symphony and other local groups. NJPAC contains a major theater, Prudential Hall, and a smaller venue, the Victoria Theater. Performers vary from lesser-known jazz musicians to Erykah Badu, Itzhak Perlman, Bill Cosby, Yo-Yo Ma, Johnny Mathis, Patti Lupone, Earth, Wind & Fire, George Benson, and even the Mormon Tabernacle Choir!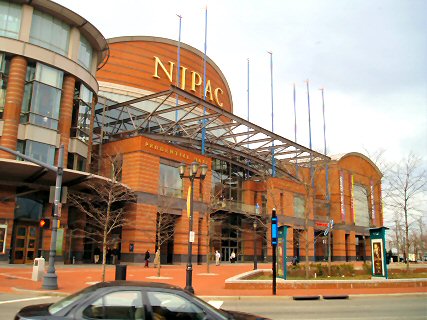 I have now been to two events at the PAC, a performance of the Royal Philharmonic in Prudential Hall (Feb. 13, 2004) and a joint performance of the Newark Boys Chorus and the New Jersey Youth Chorus. I am soon to attend, as well, a performance of grand opera, Verdi's Rigoletto, by a traveling European company, the Teatro Lirico d'Europa.
Of the two groups in the joint choral concert I saw March 14, 2004, the Boys are much the better chorus, and have appeared in some distinguished venues. In looking for the website of the Newark Boys Chorus (School: http://www.newark-boys-chorus-school.net/), I found a full-length concert online from a May 23, 2001 appearance at the Kennedy Center in Washington. I went to the main page, http://www.kennedy-center.org/programs/millennium/artist_detail.cfm?artist_id=NEWARKBOYS#, which gives some interesting background on the group and the school they attend, then clicked on the video on the lower left and was surprised to find a 52-minute program in streaming video.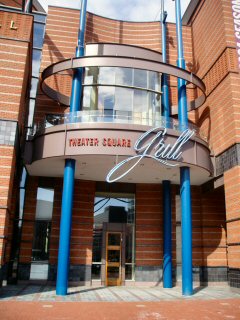 I don't know whether the chorus is better now or the engineering for the Washington performance wasn't very good (too little melding of voices, and the piano is too loud), but the performance I saw at NJPAC was better than the video — which is still pretty darned good. Perhaps the kids were nervous and felt out of their element in the Kennedy Center, or the program was a bit too formalistic and classical. Performing at home they may have felt more relaxed and confident. The fourth number on the video, which features two extremely talented boy-soprano soloists, is good, as is a South African folk song ("Remember Me Wherever You Go"); and the two last numbers ("Don't Mean a Thing If It Ain't Got that Swing" and "Praise His Holy Name", the gospel number with which they closed their first segment in the NJPAC concert) are also good. To hear just those two, move the slider button at the bottom of the video screen to about 80% toward the end.
The entire video runs over 52 minutes! You can, however, play it in the background while doing other things. Once the media player opens, you can move around the room, go to other websites, write email, etc., without losing the concert.
I'm surprised that Newark and New Jersey more generally are so little proud of this group, which has been the subject of a documentary I also found mentioned online. I'm sure it's a public-relations problem, Newark's undeserved bad rep interfering with their filling Prudential Hall in NJPAC, not just the relatively small Victoria Theater.
On the way to the PAC, you may luck out and see the reflective PSE&G Building merging into the sky.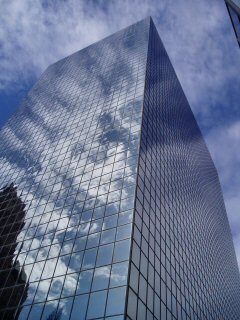 The joint performance with the NJYC brought a diverse crowd to the Victoria, in that the Newark Boys Chorus is over 80% black, and the NJYC over 80% white, the bulk of the nonwhites being Oriental, and there's nary an African feature to be seen. But, then, there's no blond hair in the Newark Boys Chorus!
The overall audience 'harmoniously' combined the two different choruses' respective audiences in a visual blend of races that subtly touched the heart. Each came to see their own but saw how beautifully the two choruses and audiences merged.
The NJYC kids sing well, but the program they were asked to perform was astonishingly dreary. Only when the two choruses merged did the non-Newark kids seem to have any fun at all. The final song of the joined choruses jazzed the audience but, oddly, the organizers offered no encore. I'd have loved to hear the two merged choruses sing "The Battle Hymn of the Republic".
It occurred to me toward the end of the concert that a joint concert (or challenge/"sing-off") by the Newark Boys Chorus and Harlem Boys Choir would be a grand event. Indeed, I then thought, I'd love to see Newark become "Chorus City", a center for choral music performances and competitions — boys choruses, youth choruses, adult civic choruses, Catholic and Lutheran church choirs, gospel choirs all singing year-round in NJPAC, Symphony Hall and other Newark venues, competing for size of audience, glowing reviews, even prizes in an annual choral festival.
Whether such a choral culture arises in Newark or not, however, NJPAC is quite a place, as a visit to its website quickly reveals. Season tickets enable regulars to avoid missing out on the most special events (e.g., the Mormon Tabernacle Choir and a 14-piece brass and percussion ensemble, whose performance was the ONLY appearance the group made in the Tristate Metropolitan Area). If only NJPAC could win a major, televised, star-studded awards show like the Grammys, Essence Awards, or the NAACP's Image Awards, Newark's own 'image' might change hugely in short order, as scores of rich and powerful people discover that Newark is nothing like what they've been led to believe. Maybe Queen Latifah and Shaquille O'Neal could help bring such an event to their old hometown.
Tibetan Buddhist altar in the Newark Museum.(Photo courtesy of The Newark Museum).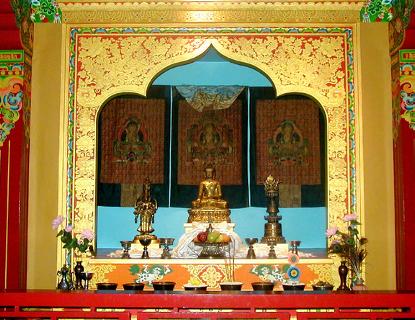 The Newark Museum is a major institution in Downtown Newark, alongside Washington Park, easily accessible by public transportation, and just a stone's throw from Broad Street (which really is broad), the major north-south thoroughfare Downtown.
It is the third largest museum educator in the Nation, behind only the Getty Museum in Los Angeles and the Metropolitan Museum of Art in New York.
It has the largest (and, it assures us, best) Tibetan Collection in the Western Hemisphere. I'm no expert, but the Tibetan altar pictured here certainly suggests quality.



(Photo courtesy of The Newark Museum)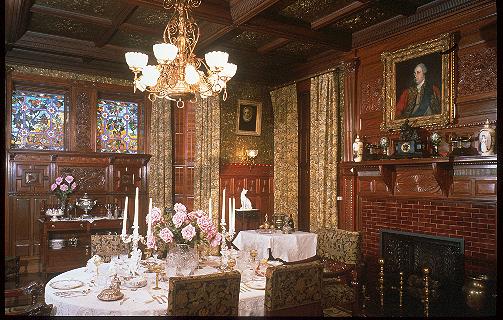 The Newark Museum is one of the few museums in the world devoted to both art and science.
In addition to its extensive art collection and Ballantine House, a private home of the ale-brewing family that retains its original opulent furnishings (pictured here ), it has a planetarium, a mini-zoo (yes, a zoo in an art museum!), and newly installed natural science galleries (which include the diorama below).
The zoo (over 100 living animals of 43 species) does not include large predators but contains an eclectic mix of smaller critters from near and far that children may find less worrisome. It also focuses on habitats other institutions would not show, such as the Jersey Shore.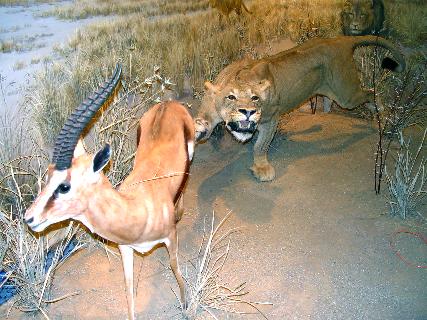 No need for a dining room — she eats al fresco: a lioness attacks a gazelle in the natural history galleries.
I'm not sure I'd want a young child to see this, but it sure does make city life look a lot better.
(Photo courtesy of The Newark Museum)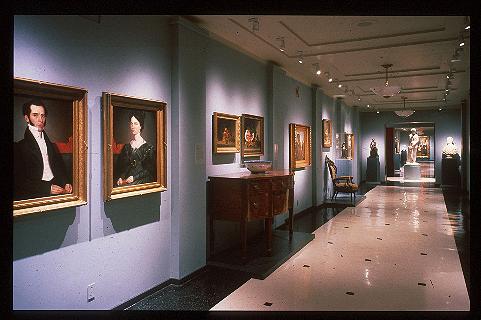 The Newark Museum's American Art Collection is among the top five in the Nation (and thus world). Unlike so many bland institutions with their light-colored walls, the Museum dares to use color to heighten the drama of its collections. Here we see the first floor of "Picturing America", the American Collection. (Photo courtesy of The Newark Museum)
There is also an Asian collection, an Africa/Americas/Pacific collection, a Classical collection, Decorative Arts, and a Numismatic collection of coins and paper money from many nations, including some medals and such from the old Newark company Whitehead & Hoag (known to collectors of political buttons as "the oldest and largest producer of pinback buttons in the first half of the 20th Century".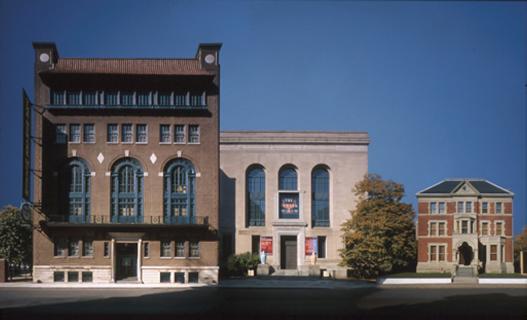 Washington Street facade, with Ballantine House at the right.
(Photo courtesy of The Newark Museum)
Located at 49 Washington Street, a few blocks north of The Four Corners (Broad and Market Streets), it is an easy walk from Newark Penn Station. But it is also accessible by Newark City Subway (Washington Street stop) and hosts of buses from all over North and Central Jersey.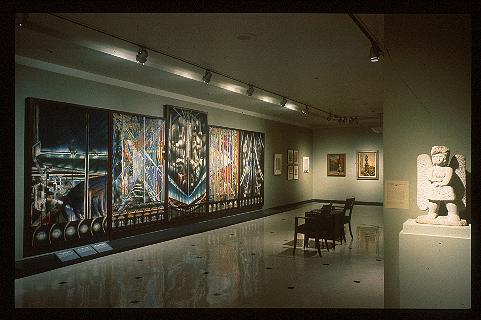 Here we see Italian- American artist Joseph Stella's Voice of the City of New York Interpreted, a five-panel masterpiece painted between 1920 and 1922. You can see the individual panels at the link above. But you'd probably enjoy seeing them in person much more.
(Photo courtesy of The Newark Museum)
The Museum has an elegant and extensive website at www.newarkmuseum.org that details the collections, hours of operation, community outreach programs, membership information, etc. (I joined, myself, just recently, so I don't have to pay each time I visit.)
PSE&G Building, top of Raymond-Commerce Building seen thru old arch at NJPAC.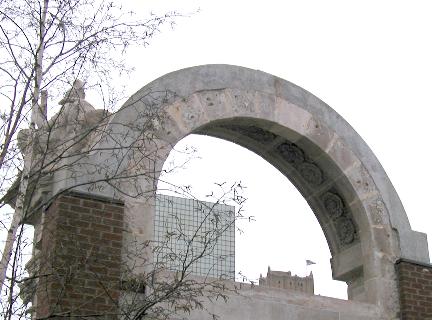 Working and Building a Business in Newark. Much of Newark's office space is of recent construction, as affords all the appurtenances required for high-tech industries to so large a share of the city's office stock that Newark is among the Nation's most "wired" cities, well attuned to the Internet and its "new economy". Naturally, any new construction engendered by a further upswing in the city's economy will incorporate all the latest technology, at a steep discount from construction costs in, for instance, New York City. Newark has a number of major corporations and large law firms, utilities, communications companies, hospitals, courts, governments, cultural institutions, retail operations — which can provide almost any kind of urban work you're likely to want.
Pay rates are a bit lower than those of New York City, but so are taxes, of all kinds. Moreover, if you live in Newark and work here too, you don't face the nightmarish commute so many people who work in New York City face every day. By the time they get to the office, they are so disgusted and stressed out that it can take an hour to settle down. By contrast, fast, convenient public transportation and relatively uncrowded roadways make moving around Newark a great deal easier and less stressful than moving around New York. You get to the office feeling like a human being, not a sardine.
Gateway Center area, late afternoon, seen from The Ironbound. Taller buildings, from left to right, are One Gateway Center,
Two Gateway Center, PSE&G headquarters, One Newark Center (Seton Hall Law School), and the Legal Center.
Low building in front of PSE&G and Seton Hall Law is the new customs processing center, and
the long horizontal structure below the skyline is part of Newark Penn Station.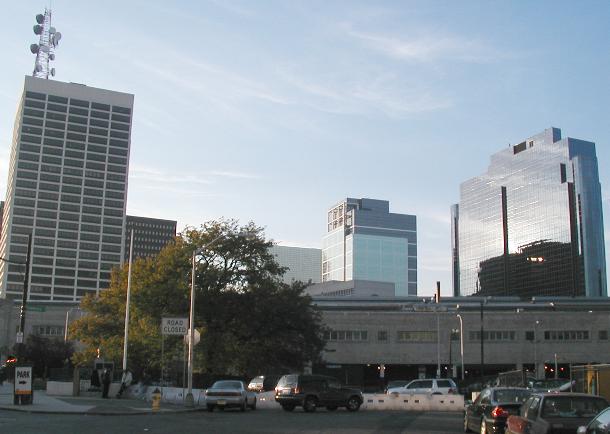 Startup costs for Newark businesses are much lower than for New York firms, so Newark should be more of an incubator for new enterprises than it is. I guess the word hasn't gotten out widely enuf. Retailers may be concerned that pedestrian traffic is much lighter, but so is competition for the shopper's attention. Established Tristate businesses looking for a good place to put back-office operations would be hard-pressed to find a better place than Newark, a relatively low-cost area with skilled, polite people.
Riverfront Stadium, winter 2000, awaiting the start of the Newark Bears' new season. Players have included
Jose Canseco and his twin brother, Ozzie. The stadium is also called the Bears and Eagles Stadium, which puzzled me..
It turns out that the Newark Eagles were a baseball team in the old Negro League. In 1946, they won the Negro World Series,
and one member of the team, Larry Doby, moved to the majors as the first black player in the American League. There was
also a minor-league (white) team called the Newark Bears in the period 1917-1949, and the two teams shared a stadium.
The name "Bears and Eagles Riverfront Stadium" honors that history. A splendid visual overview of the stadium and its setting
appears at http://www.digitalballparks.com/Newark1.html. The third photo in the series shows the tall office buildings very close in.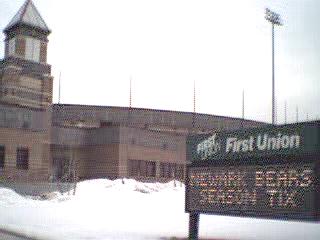 One of three statues in Newark by Gutzon Borglum.
The other two are Downtown: a monumental military grouping in Military Park,
and paired figures of a Puritan (Newark was founded by Puritans from Connecticut)
and an Indian at the narrow northern tip of Washington Park. This statue of Lincoln
sits in front of the old Essex County Courthouse, which
Cass Gilbert
designed.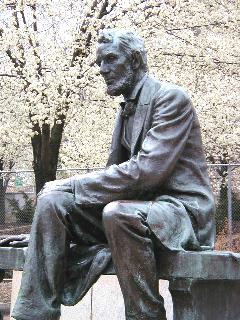 Newark has history. It is one of the oldest cities in the United States (established in 1666). Both Washington and Lincoln trod its streets.
Newark's age has its good and bad points.
The good: it has some architecturally distinguished churches, other buildings, and statuary from earlier periods and a park designed by the nephew and son of Frederick Law Olmsted (who was, with Calvert Vaux (rhymes with "talks"), the designer of New York's Central Park) that is filled with mature cherry trees greater in number and variety than Washington, DC has. The statue of Abraham Lincoln by Gutzon Borglum, the sculptor of Mount Rushmore, sits in front of the Old Courthouse, designed by renowned American architect Cass Gilbert — who also designed the Minnesota State Capitol, the Woolworth Building, the U.S. Custom House in New York City, and the United States Supreme Court Building!. Borglum's largest bronze sculpture, "Wars of America" (a large grouping of figures over 20 feet in total length), adorns the edge of Military Park, near NJPAC.
"Planting the Standard of Democracy", a sculptural grouping around a flagpole.
The "standard" they are "planting" is represented by the U.S. flag on the pole
above them. Think of the famous planting of the flag on Iwo Jima. This flagpole
is just a lot bigger.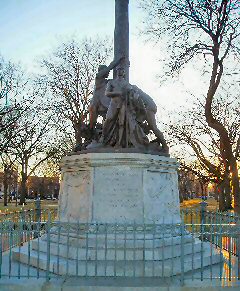 A very ornate flagpole base in Lincoln Park (shown left) was sculpted by the distinguished artist Charles Henry Niehaus, who is represented by seven — count 'em, SEVEN — sculptures in the National Statuary Hall Collection in the United States Capitol Building!
The bad: Newark's street grid is chaotic, and does not lend itself to dense traffic. For instance, the major east-west roadways from miles distant into Downtown all funnel into one, Market Street, with the result that a five-block bottleneck impedes quick movement once you get Downtown.
Moreover, there's little space for free parking. Thanks to good public transportation, however, and relatively short distances to major highways, commutation to and from Newark's many beautiful suburbs is quick and comfortable.

Sacred Heart at nite.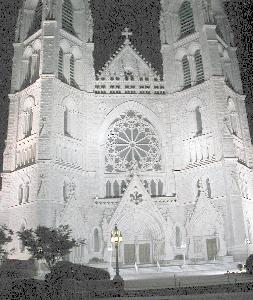 Newark's Catholic archbishop presides from the Cathedral Basilica of the Sacred Heart, an architectural gem larger than New York's Saint Patrick's Cathedral. Begun in 1898 and completed in 1954, the Cathedral was designated a "basilica" by Pope John Paul II during an official visit to northern New Jersey in October 1995. "Basilica" is a special designation that entitles a structure to host Church functions that ordinary cathedrals may not. There are only about 35 basilicas in the entire United States — and Saint Patrick's is not one of them.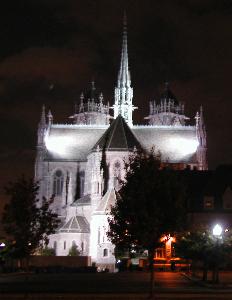 Sacred Heart has three grand rose windows, two squarish towers on the south and an elegant flèche toward the north. It is of light-gray granite that appears white when floodlit at nite, and rests upon a low hill, which makes it visible for miles around.
Downtown Newark is 21 minutes from Midtown Manhattan by New Jersey Transit train to New York Penn Station, 32nd Street and Eighth Avenue; about 20 minutes from Downtown Manhattan, 25 minutes from Greenwich Village, and 35 minutes from Herald Square by PATH rapid transit. (PATH = Port Authority Trans-Hudson, a subway system run by the bistate Port Authority of New York and New Jersey). NJTransit trains run about 20 hours a day between Newark and Manhattan. PATH trains run 24 hours a day, with the longest delay being half an hour between trains in the middle of the nite. In rush hours, trains are more like every 7 minutes.
Newark Penn Station from above, seen from One Gateway Center.
The station is mainly aboveground, with the main tracks (Amtrak, New Jersey Transit, and PATH)
carried over the street grid. Only the Newark City Subway is underground.
By private car, you can go from any part of Newark to any part of Manhattan in 40 to 55 minutes in off-hours. (Manhattan rush hours, however, are a nightmare for private cars from whatever location.)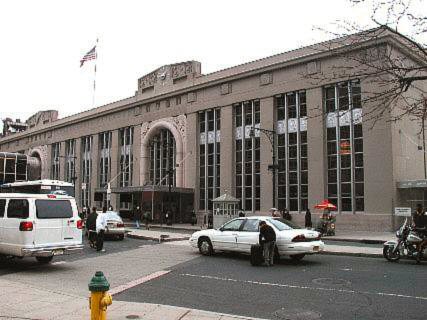 West facade of Newark Penn Station, on Raymond Plaza West.
Ceiling of art deco Newark Penn Station, at nite.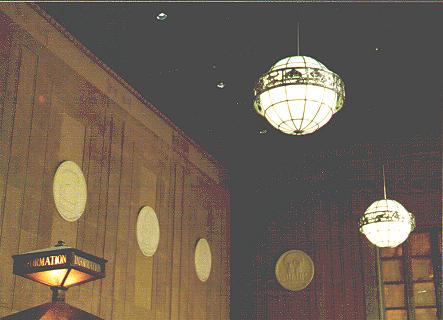 Newark Penn Station is a very special place. By far the nicest major railroad station in the entire region, Penn Station Newark is a fascinating little world all to itself. Its art deco waiting room, beautifully renovated, is stunning, a true joy to be in, unlike the claustrophobic mess of a waiting area in New York's Penn Station.
Newark's station has working escalators and elevators that go all the way to the track levels, unlike New York's, which bizarrely either aren't present at all or aren't working. (A renovation of Manhattan's Penn Station to bring it into conformance with the Americans with Disabilities Act has taken YEARS, and there is no end in sight. Meanwhile, handicapped people have to climb 39 steps at many of the tracks that NJTransit is shunted to. I know, because I had a serious accident in September 2001 that left me walking with a crutch, and I counted every damned step when I had to commute to that hellhole of a station from wonderful Newark Penn Station. In New York, many tracks have had NO working escalator at all, and the elevator goes only to the mezzanine level; you still have to climb stairs to get to the waiting room, and more stairs to get to the sidewalk! It's astounding. But not in Newark.
Art deco waiting room of Newark Penn Station in the daytime, showing wavy pattern on ceiling,
medallions of various forms of transportation on the walls.
Oh, you may have to climb down some stairs or a ramp from the PATH at 4 o'clock in the morning, tho there is an elevator even to Track H (the top of the station, where PATH trains arrive late at nite), but during main commuting hours and from NJTransit tracks there is always a working escalator, elevator, or both.
Globular ceiling lite, Newark Penn Station waiting room.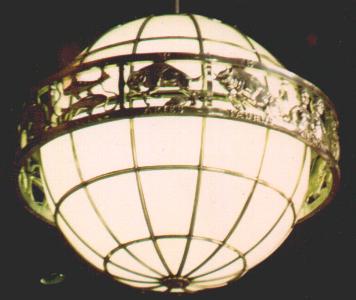 Newark Penn Station is a beehive of activity 16 to 20 hours a day, with Amtrak trains arriving and departing to all kinds of places, and NJTransit and PATH commuter trains running into Manhattan and to all parts of northern and central New Jersey. There are also buses galore, one to Manhattan's Port Authority Bus Terminal, others to many different parts of North Jersey, from bus lanes both north and south of the train station. Likewise, Greyhound has a bus terminal in the northwestern corner of the station from which you can ride to Washington, Richmond, Miami, Dallas, Los Angeles, San Francisco, Toronto, and many other distant points, directly or by connection.
You can go down some stairs just outside the McDonald's and find the Newark City Subway, a virtually unknown system of light rail that goes from Newark Penn Station past Washington Park (and the Newark Museum), on to the area of the Cathedral Basilica, and on to the far reaches of splendiferous Branch Brook Park. A new light-rail line is nearing completion that will connect Newark Penn Station with NJPAC, Bears and Eagles Stadium, and the Broad Street Station (where you can hook up with a different array of suburban rail lines)
Indian canoe, forms of transportation medallion
on the wall of the waiting room of Newark Penn Station.
One of the lions of the facade of Penn Station.

Newark Penn Station has two bars, a florist/plant store, a separate flower stand, a shoeshine stand (with female shoeshiners), a McDonald's, a soup stand, a Zaro's where you can buy fancy cookies and croissant sandwiches. There's a pizza place that also serves heros and pasta. Cafe 1935 offers cold sandwiches, cheesecake in several flavors, exotic yogurt cakes, two daily special platters and two soupes du jour — even a hot dog with all the trimmings for 99 cents. There's a shoe repair shop and dry cleaners and digital photography cart where you can get your photo, or your kid's, blazoned on a T-shirt or clockface. There are classy carts that sell silver jewelry at very good prices (I bought three rings and a handsome square-link bracelet there myself recently) and scented oils or scarves; and no-frills vending machines that sell Snapple in bunches of flavors. There are newsstands and snack stands where you can buy tickets for the New Jersey Lottery and the MegaMillions multistate lottery. Spend a dollar and buy the right to dream of a different life -- at least until the drawing.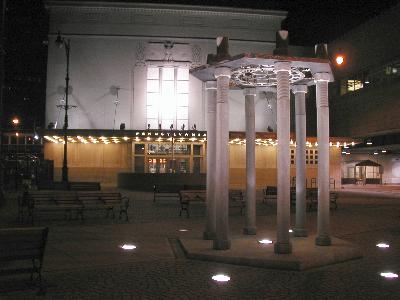 Nite view of modern sculpture ("Turning-True New-Arc" by Richard Criddle)
in little park with benches between Newark Penn Station (behind) and the Market Street bus lane.
Art deco exterior of Newark Penn Station, built for the old Pennsylvania Railroad.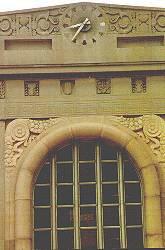 The McDonald's in Newark Penn Station is far and away the most efficient I have ever seen, and I've been to McDonald's restaurants in many states and Canada. This McDonald's takes the "fast" in "fast food" very seriously. During prime time, someone will ordinarily take my order within 30 seconds and have it ready within a minute more, tops! One person takes the order and makes change; another fetches the food. It is downright amazing to anyone who is used to endless waits and incompetent counterpeople at most "fast" food restaurants.
Newark Penn Station has inlaid terrazzo floors (which, I caution you, can be dangerously slippery when wet!) and a cafe/bar in the waiting room. Look up (yes, do) and see one of the most interesting ceilings you are likely to see short of a baroque painted dome in a great European church. No, it's not painted; it's a wavy, art-deco architectural fillip, elegantly understated but beautiful.
Newarkers outside police headquarters, 31 Green Street.

.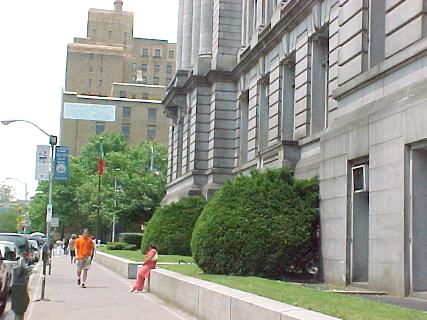 I worked across the street from Penn Station for almost three years and spent some time there almost every workday, alive to the possibilities of this little city-within-a-city that hums with people rushing to and fro, stopping for a bite to eat, and enjoying the elating spatial luxury of a 40-foot (?) ceiling in the waiting room. Now and then a helium-filled balloon is lost by a child and floats to the ceiling. A few days later, it's gone. How did they get it down?!?
Leafy retreat, overpass between Police Headquarters and City Hall.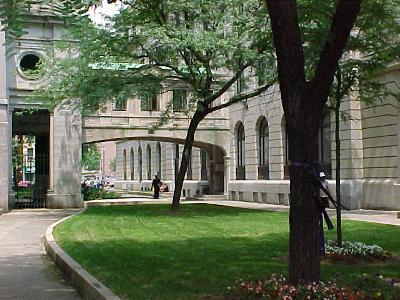 Newark Penn Station is of a different age brought into ours. It has grace, and style, and CLASS. It is beautiful and functional, both, a nexus of transportation, commerce, and art. It is truly a wonderful place.
If you pass thru but don't look at or seek to experience Newark Penn Station, you are doing yourself an injustice. Good people went to a lot of trouble to create this public place of private value. Appreciate what they have done for you. You will almost surely feel better after you look up at the ceiling of the waiting room than you did before you looked. You may even wonder what else you miss each day in looking only where you're going.
Easy and rapid transit to New York is both good and bad.
On the one hand, Newarkers have ready access to all that New York City has to offer, from theater to museums to major-league sports teams — altho I hasten to point out that some "New York" teams play in New Jersey, where Giants Stadium in the Meadowlands, a few miles north of Newark, houses both the "New York" Giants and Jets — to specialty shops.
On the other, however, it's hard for Newark to compete with Manhattan's enormous diversity of attractions and retail stores. Newark's own suburbs, some of them extremely rich (a leisurely drive thru some of these elegantly-landscaped suburbs, some of them on hillsides with views of Manhattan, is a very pleasant way to spend a day), have all the major department stores, from the low-end (Kmart and Sears) to Macy's to high-end retailers like Lord & Taylor and Nordstrom's; plus many of the Nation's most celebrated specialty stores, even Tiffany & Co.; plus all the major superstore chains, such as Costco, BJ's, and others that require large lots for warehouse-size outlets and parking. Some major chains, like Foot Locker and Old Navy, are now venturing into Downtown Newark as well, but it's hard to compete, per square mile, with Manhattan for the variety and richness of shopping. On October 6, 2005, the Home Depot opened a store in Newark just outside Downtown, on Springfield Avenue at Fairmount Avenue, opposite the Newark Screens cinema multiplex. That Home Depot has a pet aisle, not just for birdfeeders, which you might expect, but for big bags of cat food, cat litterboxes, and other welcome items! My sister in Long Beach, California says her Home Depot doesn't. Hah!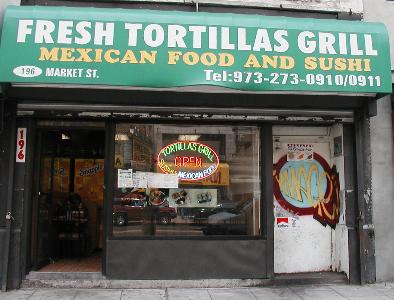 Perhaps the most difficult part of being near New York City, however, is that it's hard for Newark to distinguish itself and create its own niche in the minds of businesspeople who are considering where to place new facilities.
The University of Medicine and Dentristry of New Jersey (UMDNJ)
as seen from the covered walkway outside the doctors' office building, 90 Bergen Street.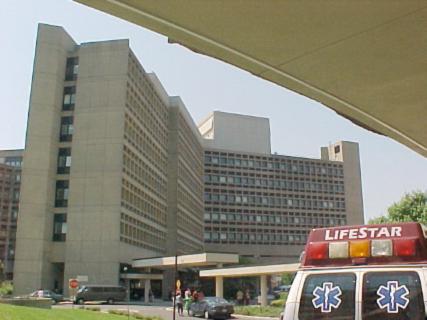 The Region. Newark is located on a river, the Passaic, and a bay, Newark Bay, an inlet of the Hudson River estuary, which is in turn an arm of the Atlantic Ocean.
(The Atlantic has many tentacles, from the Mediterranean and Black Sea on the east to Newark Bay and the Hudson River fjord on the west. Yes, you read that right. The Hudson "River" is an estuary (a tidal inlet of the ocean) as far north as Albany, NY. Only above Albany is the Hudson an actual river, a purely fresh-water stream that flows southward. Inasmuch as Albany is about 120 miles from what most people think of as "the ocean", the tidal Hudson is actually a fjord!)
Port Newark and nearby Elizabethport, very near the Atlantic and thus easily understood to be seaports even tho they are sheltered from direct ocean waves by the peninsula on which sit Jersey City and Bayonne, are major containerports, serving the Eastern Seaboard's oceangoing trade with the rest of the world. So important has the New Jersey portion of the Port of New York/New Jersey become that the federal government is moving most of its New York regional customs operation to Newark.

Port Newark's cranes, the Bayonne Bridge seen beyond "Down Neck" or "The Ironbound".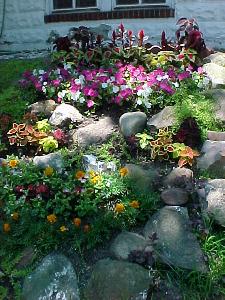 Western Newark, the residential Vailsburg and Ivy Hill neighborhoods, is less than two miles from the Watchung Mountains, an advance ridge of the Appalachian system. Vailsburg (where I live) was once a separate suburb but was annexed. I'd like to see Newark annex other parts of Essex County, especially the City of East Orange and hugely-distressed Irvington Township.
Forty miles by road to the south and east is the start of the Jersey Shore, 120 miles of bright sands along the ocean dotted by amusement areas, including Long Branch; Asbury Park; Six Flags' Great Adventure (somewhat inland), which has in the past advertised itself as the amusement park with the most rides in the world; Seaside Heights; Wildwood; and, of course, Atlantic City, home to glitzy casinos and the Miss America Pageant.
Philadelphia, metropolis to Atlantic City and the rest of South Jersey, is less than 90 miles from Newark, an easy trip by car, train, or bus, in case one wants a somewhat different big-city nightlife from that of New York or to visit Philly's splendiferous historical sites and museums.
Flowers bloom in Vailsburg.
New Jersey Historical Society headquarters, east of Military Park.
N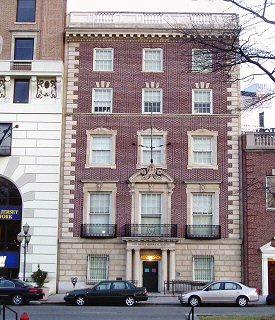 ew Jersey has its own historical sites, of course, especially of Revolutionary War vintage. So much of the action of the early War of Independence occurred in New Jersey that the state has been called "The cockpit of the Revolution". Washington overwintered twice at Morristown, only 20 miles from Newark. Benedict Arnold, the notorious traitor of West Point, was court-martialed there. The mansion that served as Washington's headquarters, and some of the barracks and other constructions of the army camp, are still on view in the Morristown National Historical Park.
Washington's enormously important, surprise victory at Trenton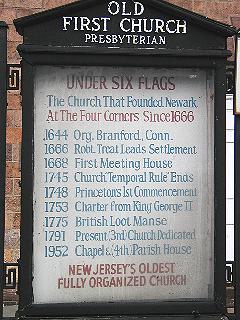 was little more than 50 miles from Newark, around the same distance as the Battle of Monmouth where Molly Pitcher took charge of a cannon after her husband fell wounded.
Even closer is picturesque Princeton, site of a Revolutionary War battle shortly after the Battle of Trenton and home to the Ivy League's Princeton University as well as to Princeton Theological Seminary, Westminster Choir College and the Institute for Advanced Study. Even closer to Newark is New Brunswick, where the main campus of Rutgers, The State University of New Jersey, anchors the northern end of a "research corridor" down U.S. Route 1 to Princeton. In this area lie a goodly number of the world's premier high-tech companies, including a heavy concentration of the world's largest pharmaceutical companies.
Gutzon Borglum's heroic bronze statue, Wars of America, in Military Park.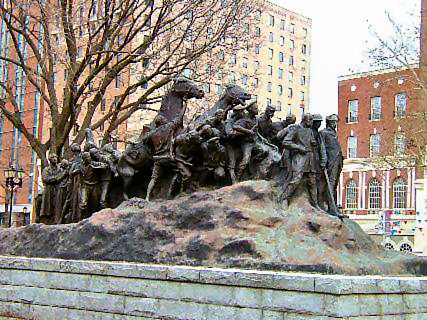 Newark's Military Park (described by encyclopedia.com as "a Revolutionary War drilling ground and a Civil War tenting area") is the site of a massive bronze statuary group, "Wars of America" by Gutzon Borglum. New Jersey Monthly describes it thus: "the largest metal sculpture of Borglum's career depicts 44 figures and represents the four major American military conflicts up to and including World War I". It is about 24 feet long, end to end (perhaps even longer), and sits beside a carefully kept lawn edged by white-light-encrusted trees.

Borglum's statue, "Wars of America", in its setting,Military Park, in beautiful downtown Newark.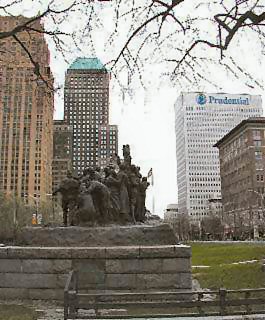 Maintaining the Momentum in the City's Resurgence. Newark is an ideal place for people of the middle and lower middle class — of all races — to buy their first house. Property values are still somewhat depressed; taxes of all categories are low; schools are good; and transportation is excellent, so good that families pressed for cash don't need a car their first year or so, until they can sort out expenses. Single people tired of the crammed-jammed and frazzled life of Manhattan can find space, greenery, and peace of mind an easy commute from Gotham. When they want New York's excitement, it's within easy reach. When they want to be out of the madness, however, they can retreat to their own spacious, inexpensive house, with a garden and driveway, separated from neighbors and free of landlords!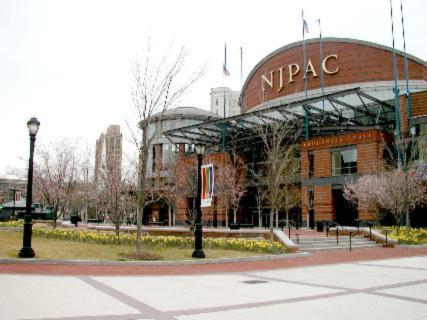 The New Jersey Performing Arts Center, northeast of Military Park.
Artists and gay men, the vanguard of many areas' revitalization, would find Newark especially congenial, because it has a small-town or even, in some neighborhoods, suburban feel but the live-and-let-live anonymity of a big city.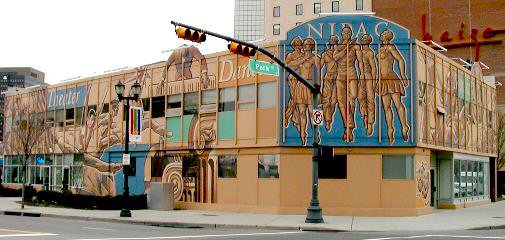 Police station opposite NJPAC.
For less than you'd pay for a studio apartment in Manhattan, you can have a three-story HOUSE, with natural daylight pouring in from windows on all sides, a yard to grow veggies and flowers, and a driveway (so that if you can afford a car you don't have to circle the block endlessly to find a parking space), all on quiet streets lined by trees.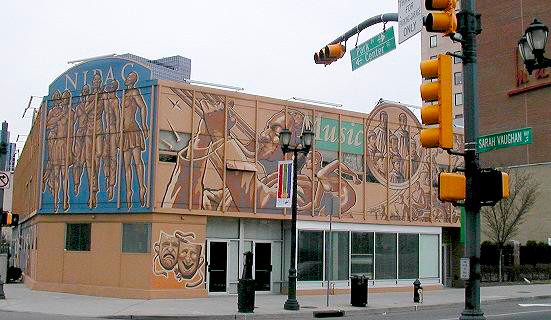 Another view of the police station opposite NJPAC; street sign for Sarah Vaughan Way.
Ms. Vaughan was a Newarker.
Just as residential space is substantially less expensive in Newark than in Manhattan and indeed other parts of New York City and Tristate suburbs, so is commercial and office space. Newark is thus an ideal incubator for small businesses, especially those that can tap into the Internet so are not overly dependent upon local customers dropping in to brick-and-mortar stores.
NJPAC and its neighbors seen thru birches on the Center's landscaped grounds.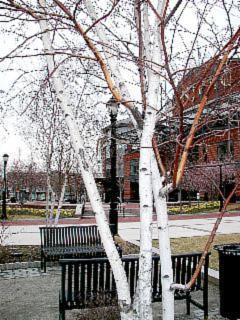 Richard Florida, a Newark native now a professor of economic development at Carnegie Mellon University, wrote about the new urban life that Newark can easily exemplify. In an op-ed piece in Long Island's Newsday newspaper, he says "My hometown of Newark stayed stable [in population, 1990-2000] but it has even seen the rise of a new performing arts center, downtown restaurants and a local arts scene." He goes on to say:

"My research shows a striking statistical correlation between diversity and high-tech growth. The ability to support a thriving gay community, as New York City has, is strongly related to high-tech industry. This is not because high-tech workers are gay [tho I would point out that some of us are], but because a large gay population indicates a city with 'low entry barriers' for people — where virtually anyone can plug in, start a business, and make a life.




Tidy plantings in the Society Hill townhouse complex near downtown Newark.

* * *

"Urban America is at the cusp of a new era. The new knowledge-based economy, lower crime rates, a cleaner environment and more diversity all bode well. The New American City is more about knowledge than manufacturing. It is more about lifestyle, entertainment and fun than just hard work and getting ahead. It is less about an 'Ozzie and Harriet' style of life and more a reflection of a new America — of straights and gays, young singles and energetic retirees, scores of new ethnic groups, a polyglot of multiracial, multi-ethnic and alternative family arrangements.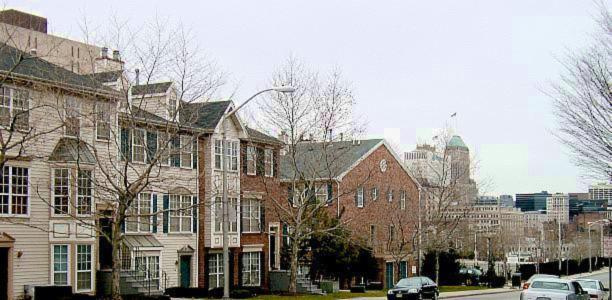 Society Hill's townhouses hug South Orange Avenue (the avenue to South Orange, a prosperous mountain suburb
to the west of Newark), within walking distance of Downtown.
"This is a fundamentally different kind of city, and we need to make our plans accordingly."


— Richard Florida, "Cities Are Still at the Heart of the Action", Newsday, May 23, 2001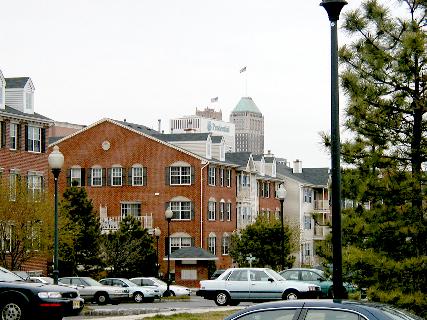 If this is the kind of life you'd like to live, you should consider making your future in Newark, because that's the kind of place this city is becoming.
Another view of Society Hill's convenient townhouses.
The Star-Ledger (Newark's major daily newspaper) confirmed the trend of gay and lesbian movement to Newark and other areas of North Jersey in a major front-page story about one interesting result from the 2000 federal census on August 15, 2001, headed "Gay pairs find comfort zones: Couples feel acceptance in many towns". Describing Paterson (an old city 10 miles north of Newark), one gay man is quoted as saying,
"I know I can walk out of my house where I am now and there's not going to be comments and it's not a surprise that we're gay .... It's assumed and accepted, and that wasn't the case in other places I've tried. I hate feeling like I have to live a lie. ... Here I don't have to pretend."
Rescued arch from demolished building, outside NJPAC.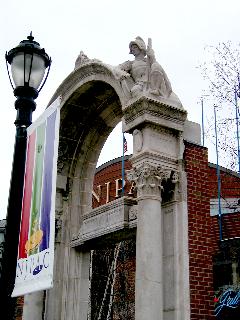 Lest you think that applies only to Paterson and not to Newark, the writer of the article, Ana M. Alaya, states that:
"In all, 16,604 couples in New Jersey identified themselves as same-sex partnerships on the 2000 census short form. The number represents one out of every 108 couples in the state, but 11 percent of all unmarried couples who reported."

"... New Jersey in many ways is a welcoming state for gay people, where same-sex partners are covered under the state's Domestic Violence Act and the courts have recognized the right of homosexual couples to adopt children. The Garden State is one of only 11 with a civil rights law that includes sexual orientation.

"From leafy, sophisticated suburbs like Maplewood [which adjoins the Vailsburg section of Newark], where gay couples with children ply the playgrounds, to the faded Shore town of Asbury Park, where gay ex-Manhattanites are breathing life into entire city blocks, gay couples are settling in, raising families and, in growing numbers, standing up to be counted."
Oddly, altho The Star-Ledger is based in Newark, this article focuses on other municipalities, even tho a table shows that Newark has the second largest number of self-reporting same-sex couples in the state, after only Jersey City, which is just across the Hudson River from New York City's massive concentration of homosexuals. And of course the article focuses only on attached gay people and lesbians, not singles. There is no census question by which the number of single gay men or lesbians might be established.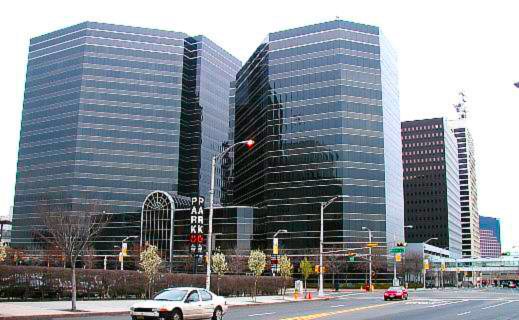 Gateway Center, a complex of office buildings tied to the Hilton Hotel, Legal Center and Penn Station
by all-weather "skyways", one of which, to a parking structure, is visible to the lower right.
Urban and suburban New Jersey are, in short, tolerant areas where people mind their own business and do not compel conformity to a narrow-minded standard. It is thus an appropriate place not just for gay men and lesbians but also for heterosexual artists, actors, bohemians, and creative people of every kind to establish themselves. The arts have revitalized many urban neighborhoods. Why not Newark's?

One Gateway Center, first-built of the Gateway Center complex. Both of New Jersey's U.S. Senators
(Jon Corzine and Frank Lautenberg) have offices here. They're both in Newark
because it's essential that any major player in New Jersey be in Newark.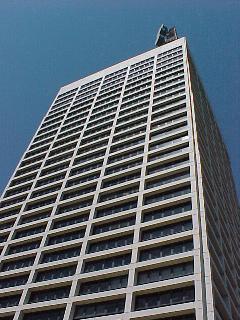 Click here for a May 6, 2001 Baltimore Sun travel article about some of the sights of Newark. Other travel articles about Newark, as from The New York Times and Washington Post, are indexed at GoNewark's "developments" page. GoNewark.com is an extensive site with masses of information of many types and links to many, many other sources of information about Newark and its metropolitan area.
*
Well, that should do for the barest introduction to Newark, except for one thing. I'd like to show you a couple of pictures of a visitor to my house in semi-suburban Vailsburg.
We have great big trees, including many oaks, and thus I'm accustomed to seeing a great many squirrels. But I didn't expect to see this little fella eating my cats' dry food. I guess a guy can get tired of acorns after a while. The little bandit came in an open window and decided to help himself to some cat chow. My cats sat quietly by, happy to share with their furry friend.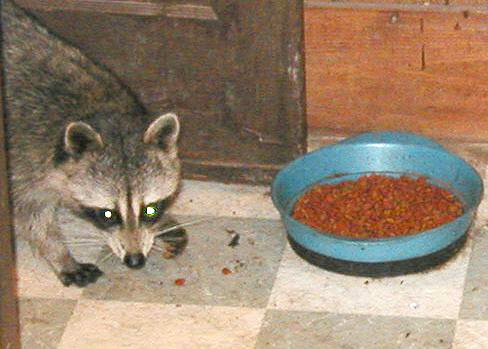 My cats and this raccoon are equally sloppy eaters, I'm afraid. The cats grab a chunk of canned food with their teeth and take it out of the bowl to drop on the floor away from the other cats. The raccoon grabs a pawful of dry food out of the bowl and drops it on the floor to eat. Maybe I should put newspaper under the bowls for these mannerless beasts. Would it be disrespectful to put pages of the Star-Ledger to such a use? No, I think not. The Star-Ledger covers New Jersey. It can cover part of my floor as well.
Actually, as you can see from the photo, this raccoon (one of two I saw ambling together toward a storm drain midblock at dawn) is fairly large. (I was walking home from the bus after a trip to the bars in Manhattan, but was sure I wasn't that drunk and there really were wild raccoons in Newark!) I don't know if this is the larger one or the smaller. The squares on the kitchen linoleum are 9 inches on a side, which makes this raccoon about 36 inches long from tip of nose to tip of tail. Newark has been good to him (her?).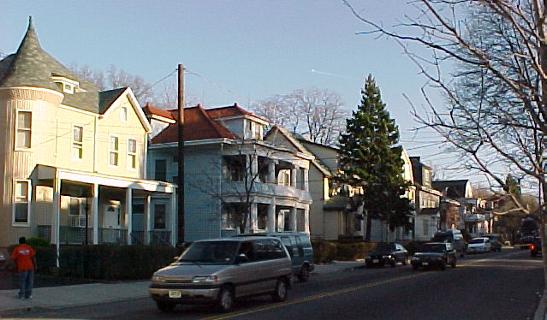 San(d)ford Avenue, Vailsburg (one block behind my house). There are two spellings of this street,
one with a middle-D, one without. Both are shown on maps and street signs. I don't know why.
Vailsburg is one of those old urban/suburban areas that are becoming newly wild, as once-displaced species accommodate themselves to a human presence and make a comeback. One April morning recently as I headed out to work, I almost stepped on a garter snake on the bottom concrete step to the sidewalk from my porch. S/he must have been uncomfortable and cold, so I put the poor little thing (about one foot long) up onto the leaf litter still covering my front yard above the retaining wall (Vailsburg is a little hilly, and my lot slopes down toward the street). I trust the snakelet found a safe place to stay the nite before the raccoons came hunting! Avian visitors to Vailsburg include blue jays, cardinals, and, from time to time, crows, in addition to the more ordinary sparrows and such. Pigeons, however, seem to prefer Downtown.
*
See the other pages of this site for more information about the pleasant surprise that is Newark, NJ, USA.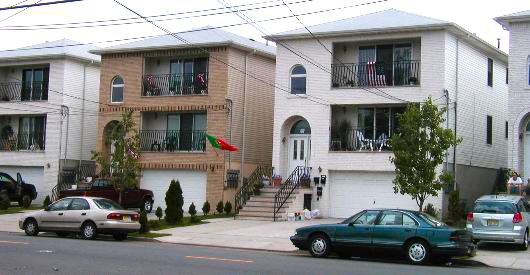 Elegant middle-class brick and stucco houses in The Ironbound, the far-eastern
neighborhood of Newark, as contrasted to Vailsburg, the westernmost neighborhood.
(One of Newark's nicknames is "Brick City".) Note the Portuguese flag.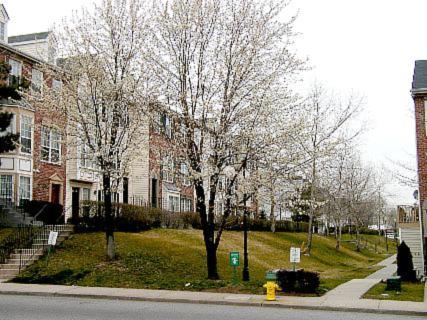 If you're interested in investigating housing in Newark, and especially if you're ready to buy a house, check out Realtor.com, which allows you to "window-shop", without making any commitment or troubling any broker, for houses anywhere in the U.S. that you may be interested in. Listings include not just descriptions of the property but also pictures. If you aren't certain you're ready to do this, there's a lot of material available for you to read on that site, about the various aspects of home ownership, low-cost mortgage programs underwritten by government (e.g., the FHA), the enormous tax advantages of home ownership, etc. Once you're ready to proceed, you can find a broker thru Realtor.com who can show you around the properties you find interesting and steer you thru the process of becoming a homeowner.
For as little as $5,000 down, you may be able to buy a house that is two or three times the size of the typical New York apartment, with a monthly mortgage payment little more, or perhaps even less, than your current rent. A friend of mine has a tiny one-bedroom apartment on Bleecker Street, Greenwich Village, and pays over $1,200 a month. I have a three-story house, with a basement to boot, and pay just under $800 a month for mortgage and escrow payment (for property taxes and homeowners insurance)!
Whereas your rent disappears, never to be seen again, your mortgage payment gives you immediate tax advantages, and home ownership gradually creates "equity" (ownership interest, the difference between the amount remaining on your mortgage and the value of your property) that can be used as collateral for a debt-consolidation loan by means of which you can pay off high-interest consumer debt, none of the interest on which is tax-deductible, and substitute lower monthly payments, much or all of the interest on which is tax-deductible.
If even a $5,000 down payment is more than you can afford, there may be federal or state government assistance you can qualify for that would make the unthinkable, owning your own home, a reality.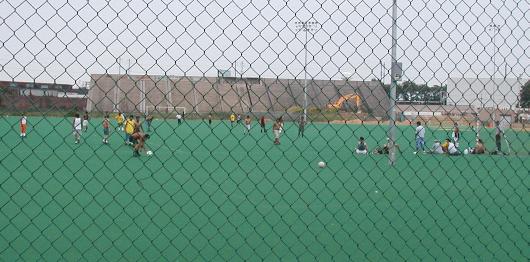 Astroturfed soccer field in the Ironbound.
The Ironbound section (also called "Down Neck") as seen from Gateway Center.
Think about what you'd want in a house, what is indispensable and what would be nice to have but you can do without. Make a written list and keep a hardcopy of it by the computer while you look over listings. Carry a copy with you when you find a real estate agent who takes you from house to house. Because it is easy to get confused as to which house had what, you could number the items in your list (say, 1-16 in your "must have" list and a-j in your "would be nice" list) and then, on a separate piece of paper, note the address of each house you look at and write down the number for each of your "musts" it does NOT have and the letter of each of the "would be nice" items it DOES have. This will really simplify your selection.
But don't be surprised if something so striking about a particular place renders irrelevant some of what you thought were "musts". You have to be happy in your house, and if you just love one place so much even tho it doesn't have some of the things you thought were indispensable, that you've got to have it, you may decide that you will either do without the missing items or add them later. A house isn't like an apartment you can leave in a couple of years if you become dissatisfied. It's a major financial and emotional commitment, and leaving one house to take another can be enormously time-consuming and expensive. So if you really love one place head and shoulders above all the rest, but it doesn't have everything on your "must" list, ask yourself if two years from now you will find its deficiencies maddening and whether, realistically, you will either be content to live with its inadequacies or be able to remedy them.
In my househunting process, I made a list that I posted to the Internet for ready reference by realtors. After I found my house, I compared my initial list with what I ended up buying. You might find this comparison helpful in clarifying your own thinking.
Realtor.com is a good place to start to find out if buying a house is an attractive and viable option for you. That's how I found my house. Maybe you can find yours that way too.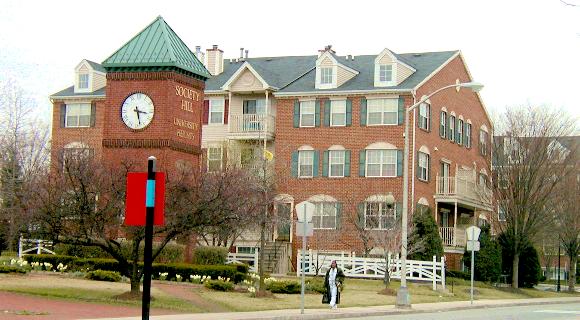 I will be adding to the Resurgence City site from time to time, especially in photo galleries here or elsewhere (but linked to from here).
If you find a nonworking link (the Internet changes so much, it's hard to keep up), please let me know. And if you'd like to be advised when a significant addition is made to this site, just write me. Also feel free to send suggestions, comments, and constructive criticisms. (A word of encouragement wouldn't hurt, either.)
*
Other pages on this site:
"Niches for Newark", some suggestions as to how Newark might distinguish itself from its neighbors and make a significant contribution to the Tristate Metropolitan Area.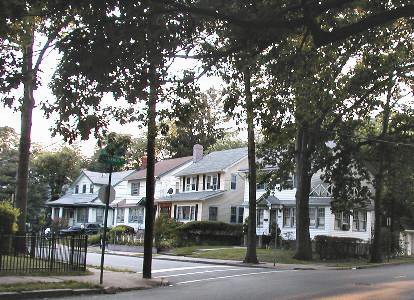 Tree-shaded houses in Vailsburg, westernmost Newark.
"Second Annual Community Arts Day", a description of an interorganizational arts celebration held yearly, and a message from our Webmaster to Governor McGreevey on proposed cuts to public funding to the arts.
"Quotes", what various famous people have said about Newark [very preliminary; please send suggested additions].
Topiary evergreens, rock centerpiece, private yard in Vailsburg.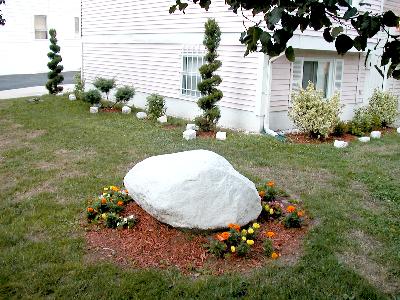 "Explosive Demolition filmlet", a short (c. 15-second) movie of the last explosive demolition (sometimes wrongly called "implosion") of a high-rise public-housing project in Newark, with introduction.
"Other Websites of Interest", a short list of sites that have been helpful to me in creating this site or that might be especially helpful to people who want to know more about Newark USA.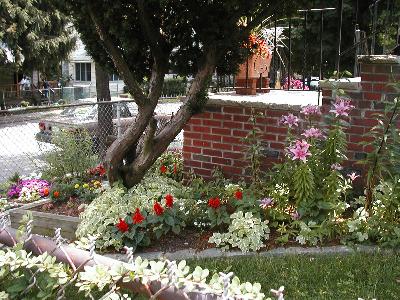 Side garden, private home in Vailsburg.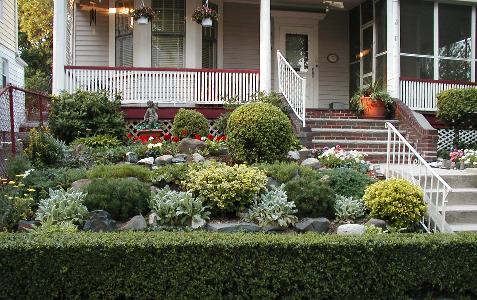 Front garden, private home in Ivy Hill/Vailsburg.
Pages to be added to this site include "Gateway Center" (views of the premier downtown office complex); "Newark Day and Nite" (same site, sunlite and nitetime); "Faces of Newark" (movers and shakers, and ordinary people working for the future); "Newark Abuilding" (construction progress photos); "Newark Penn Station" (focusing on the details of that grand art-deco nerve center); and "Churches" (and other houses of worship); among others. The photo below, which closes out this page, offers a foretaste of the "Churches" page. Check back.
Mosaic on the front of St. John the Baptist Ukrainian Catholic Church, Sanford Avenue, Vailsburg.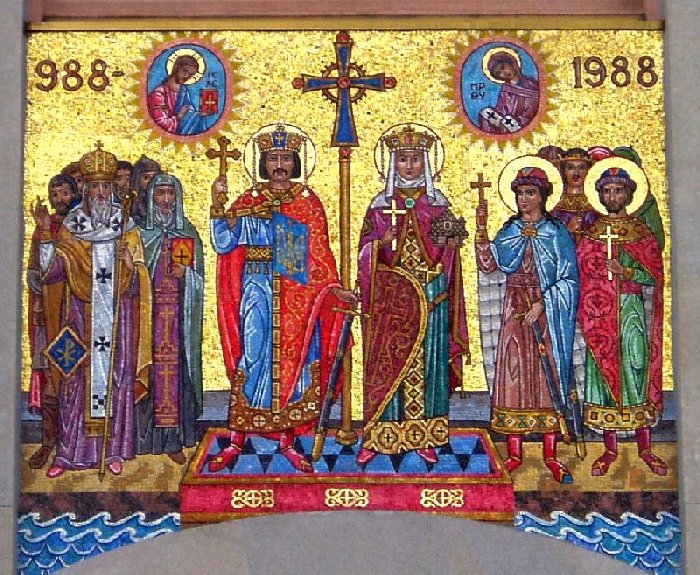 Text and, unless otherwise credited, photos by
L. Craig Schoonmaker, Newarker
Created September 2002; revised periodically thereafter.
(This is the end of this area.) ["Newark USA" fotoblog, by the author of this site] [Newark Arena (discussion and photos of architectural model)] Third Photo Gallery] [Cherry Blossom Festival 2005 photos (another photographer's site)] [Second Photo Gallery (this site)] [Newark in the Artistic Imagination, photos and artistic variations on Newark sights, plus some information for artists] [First Photo Gallery] [Niches for Newark.] [Quotations] [Explosive Demolition filmlet] [Other Websites of Interest] [Contact]